Alicia M. Morgan is an award-winning executive leader and consultant.
She is a graduate of Tuskegee University with a Bachelor of Science Degree in Aerospace Science Engineering and New Mexico State University with a Master of Science Degree in Industrial Engineering. Committed to lifelong learning she has successfully maintained leadership excellence in the for-profit and nonprofit sector through K-12 STEM/STEAM education outreach, college/workforce readiness, strategic planning, and program development. Alicia M Morgan partners with leaders and organizations to create learning experiences that facilitate bridging cross-generational leadership gaps and empowering high performing impactful and award-winning teams. She has certifications from CNM in Nonprofit Management and Social Sector Leadership from the University of California Berkeley, Haas School of Business.
Her professional engineering experience includes working in Capital Asset Management and Process Engineering at Fortune 500 companies such as Lockheed Martin, The Boeing Company, and Raytheon.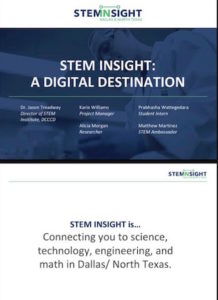 Following more than thirteen years in the engineering industry, Alicia embarked on a path in the nonprofit sector, applying her professional and educational experiences in this new environment. She was a Program Leader for the after school program Heart House Dallas and lead researcher for the Dallas Community College District(DCCCD) STEM Accelerator Insight Project website. The project through a grant partnership with the Dallas County Community College District, Educate Texas, and the Helmsley Foundation supports a healthy, growing STEM workforce for North Texas. The project's STEMinsight website is a student, parent, and teacher-friendly online portal that introduces educational and career options in STEM for middle school, high school and college students in the DFW area.
Nonprofit Management
Are you a nonprofit dealing with managing change in the era of constant shifts in technology? Do you need to come up with innovative solutions to reach a culture-related goal, and you are not sure of how to get there? Alicia M Morgan is certified in nonprofit management and offers advisory and strategic development services to convert your needs to processes and frameworks for programming development with practical outcomes.
STEM/STEAM Education Leadership
Alicia Morgan began working at the Frontiers of Flight Museum in 2017. She immediately used her engineering background and social capital to create new partnerships in the STEM community and other technology organizations helping to exceed the Museum's strategic goal of reaching over 40,000 students annually.  In 2018, under Alicia's leadership, the Museum Education Department received the Million Women Mentors® Education Organization Stand Up for STEM Award at the Texas Women & Girls in STEM Summit. The award the first for the department recognizes their efforts to engage girls in STEM. Their Young Women's STEM Leadership Initiative(YWSLI) reaches over 2100 girls annually through partnerships with girls' schools in the Dallas area, through spring break girls' camps and youth volunteer programs that stood out as models important to recognize and share. The success of the YWSLI has lead to the expansion of the program into a Youth STEM Initiative(YSI) that includes both boys and girls beginning in elementary school from 3rd-5th grade through middle to high school. The education department is now a Continuing Professional Education Provider, elected a Teacher Advisory Committee and Education Task Force to ensure that the museum's education programs align the school's curriculum within Texas Essential Knowledge and Skills (TEKS). 
In 2018, she was also selected as a Dallas Public Voices Fellow by the Op-Ed project in partnership with the Boone Family Foundation. The Boone Family Foundation, launched its inaugural Dallas Public Voices Greenhouse in 2015, more than a dozen leading foundations and universities including Yale, Princeton, Stanford, Texas Woman's University, Northwestern, and The Ford Foundation have launched Voices programs. The OpEd Project's mission is to increase the range of voices and quality of ideas we hear in the world. She published four op-ed pieces about STEM Education, Women in Leadership and Overcoming Failure in publications such as Miss Magazine, Garnet News, The Hill and Chicago Crain's for Business. 
She served as Advisory Board Chairperson for a NAF Academy of Engineering and Health Sciences at Bryan Adams High School in Dallas which became NAF track certified.
"NAFTrack Certification is achieved through an online system created by education and business leaders to assess college and career readiness. NAF uses a multi-method approach to assess students on a broad range of skills. Student performance is measured through career-related coursework, a qualifying internship, and high school graduation. Upon successful completion of NAFTrack Certification, students are eligible for NAFTrack Certified Hiring!"
Broadening her experiences as a thought leader in 2018 she was selected to be the keynote speaker at the Tuskegee University STEM Open house funded by the National Science Foundation (NSF) EPSCoR project. There were more than 125 poster presenters representing students from various Alabama universities.  They were also over 90 middle school students in attendance for her keynote presentation on the fight to the space race through the Apollo program as well as her moderation of a panel discussion of doctoral candidates for their STEM-related research posters.  
Leadership Development
Do you want to lead your team from tactical to strategic success? Do you want put processes in place for data collection and management that leads to certification and award-winning success? Alicia shares practical experiences leading teams from qualitative to quantifiable results under her leadership with a 12-36 months strategic plan.
Alicia has lead teams to achieving certification in program evaluation for efficiency and effectiveness.  A valid evaluation methodology incorporates best practices and provides a comprehensive toolkit and program evaluation system for data management.
Change Management
Change Management is necessary for today's workplace, where culture shifts require unleashing diverse talent to enable teams to execute ideas that align with strategies to remain globally competitive. You can trust Alicia M Morgan to deeply understand your company and its goals to align leadership with an inclusive culture, creating collaborative partnerships in the for-profit and non-profit sector, while implementing best practices for executing a strategic plan with progress indicators.
Previous Clients