Alicia M. Morgan is an award-winning executive leader and nonprofit management consultant.
She is a graduate of Tuskegee University with a Bachelor of Science Degree in Aerospace Science Engineering and New Mexico State University with a Master of Science Degree in Industrial Engineering. Committed to lifelong learning she has successfully maintained leadership excellence in the for-profit and nonprofit sector through K-12 STEM/STEAM education outreach, college/workforce readiness, strategic planning, and program development. Alicia M Morgan partners with leaders and organizations to create learning experiences that facilitate bridging cross-generational leadership gaps and empowering high performing impactful and award-winning teams. She has certifications from CNM in Nonprofit Management and Social Sector Leadership from the University of California Berkeley, Haas School of Business.
Her professional engineering experience includes working in Capital Asset Management and Process Engineering at Fortune 500 companies such as Lockheed Martin, The Boeing Company, and Raytheon.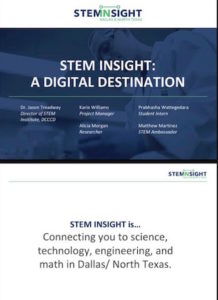 Following more than thirteen years in the engineering industry, Alicia embarked on a path in the nonprofit sector, applying her professional and educational experiences in this new environment. She was a Program Leader for the after school program Heart House Dallas and lead researcher for the Dallas Community College District(DCCCD) STEM Accelerator Insight Project website. The project through a grant partnership with the Dallas County Community College District, Educate Texas, and the Helmsley Foundation supports a healthy, growing STEM workforce for North Texas. The project's STEMinsight website is a student, parent, and teacher-friendly online portal that introduces educational and career options in STEM for middle school, high school and college students in the DFW area.
Nonprofit Management
Are you a nonprofit dealing with managing change in the era of constant shifts in technology? Do you need to come up with innovative solutions to reach a culture-related goal, and you are not sure of how to get there? Alicia M Morgan is certified in nonprofit management and offers advisory and strategic development services to convert your needs to processes and frameworks for programming development with practical outcomes.
Leadership Development
Do you want to lead your team from tactical to strategic success? Do you want put processes in place for data collection and management that leads to certification and award-winning success? Alicia shares practical experiences leading teams from qualitative to quantifiable results under her leadership with a 12-36 months strategic plan.
Alicia has lead teams to achieving certification in program evaluation for efficiency and effectiveness.  A valid evaluation methodology incorporates best practices and provides a comprehensive toolkit and program evaluation system for data management.
Change Management
Change Management is necessary for today's workplace, where culture shifts require unleashing diverse talent to enable teams to execute ideas that align with strategies to remain globally competitive. You can trust Alicia M Morgan to deeply understand your company and its goals to align leadership with an inclusive culture, creating collaborative partnerships in the for-profit and non-profit sector, while implementing best practices for executing a strategic plan with progress indicators.
Previous Clients