Alicia Morgan: The Visionary Executive Leader Driving Transformation
Discover the transformative power of Alicia Morgan, an exceptional executive leader driving success across industries. With a remarkable career spanning Fortune 500 companies, nonprofit STEM education programs, and college/workforce readiness initiatives, Alicia brings a wealth of expertise to every endeavor.
Alicia Morgan is an accomplished executive leader with a wealth of experience and expertise in project and program management, change management, and agile leadership. With a remarkable track record in leading high-performing teams across diverse sectors, she has made a significant impact in Fortune 500 companies, nonprofits, and college/workforce readiness initiatives.
Education has been a cornerstone of Alicia's journey, holding a Bachelor of Science Degree in Aerospace Engineering from Tuskegee University and a Master of Science Degree in Industrial Engineering from New Mexico State University. This unique blend of technical knowledge and leadership skills allows her to approach challenges with a strategic mindset, identifying innovative solutions that drive organizational growth and success.
Alicia is widely recognized as an industry expert and thought leader in project and program management. As a PMP-certified consultant, she consistently exceeds expectations and delivers exceptional results for her clients. Her ability to navigate complex landscapes, mitigate risks, and ensure efficient project execution sets her apart as a true leader in her field.
An award-winning professional, Alicia's accomplishments have garnered attention and admiration. She has been honored as a Women in Technology Awards Advocate, highlighting her dedication to empowering and uplifting women in the industry. Additionally, her expertise has earned her the privilege to share her insights as a TEDx speaker, captivating audiences with her compelling vision and inspiring narratives.
Alicia's work has been featured in renowned publications such as the Dallas Morning News, Dallas Business Journal, Crain's Chicago Business, and The Hill. Her contributions to these esteemed platforms reflect her thought leadership and expertise, solidifying her position as a respected figure within the industry.
As an executive leader, Alicia excels in both people and executive leadership, effectively engaging stakeholders and fostering collaborative environments. Her strategic planning capabilities are unparalleled, guiding organizations towards success and sustainable growth. Alicia's exceptional communication and organizational skills allow her to build trusted relationships, ensuring a foundation of strong partnerships and lasting connections.
In a dynamic and ever-evolving business landscape, Alicia Morgan stands as a beacon of leadership, ready to guide organizations towards their goals. With her unique blend of expertise, passion, and dedication, she is committed to driving transformative change and inspiring teams to reach their full potential. Discover the difference Alicia can make for your organization as you embark on your next journey to success.
For more visit Consulting Services
BOARD LEADERSHIP EXPERIENCE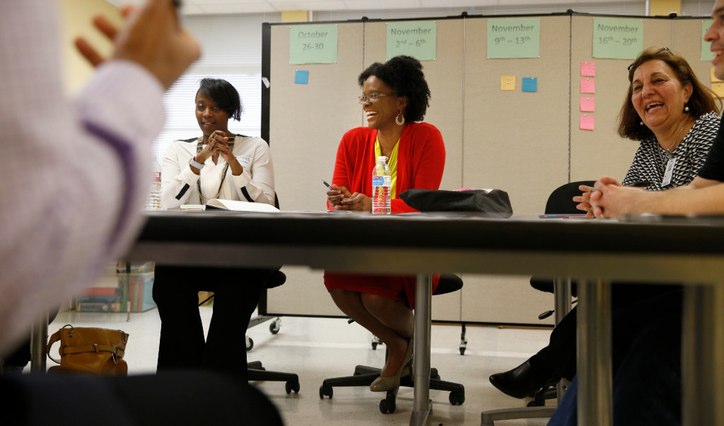 "Alicia Morgan joined the advisory board of Academies of Health Sciences and Engineering at Bryan Adams High School in the fall of 2015, during their year of planning. She agreed to serve as the chair for the board. Alicia quickly learned the National Academy Foundation (NAF) model and began helping the advisory board develop its strategic plan, which led to the creation of their work-based learning plan/calendar. She recruited other professionals to join the board and helped them get up to speed, implementing similar engagements for the students.
Although not swerving as the chair anymore, Alicia has continued to be consummate advisory board champion because:
She mentors the girls in our academies by sharing her career journey and encouraging them to pursue & persist in STEM
She has been instrumental in developing the academies' strategic and work-based- learning plans. Alicia makes sure that these plans are turned into action.
Leveraging her connections and professional network to raise awareness of the academies she supports and to help build community support for them. Alicia promotes the NAF Academies in Dallas and lets people know there is great work getting done in our academies
Securing and coordinating a sequence of work-based learning experiences which connects classroom instruction with the world of work.
Participating in a variety of classroom activities and student projects, being the expert and critical friends students need.
Furnishing paid internships, as well as helping find other internships for students.
Collaborating with academy teachers and leaders, district and NAF staff to enhance the curriculum and engagement opportunities for the students, especially girls, and teachers. Alicia's contributions extend well beyond NAF Academies in Dallas. Her hard work and participation in various NAF/district level convening's and initiatives are true testaments to her commitment to education, NAF, and Dallas-ISD academies.
Every year, Alicia and her team provided many worksite tours to the Frontiers of Flight Museum for 300+ NAF Engineering and IT students, across the district.
Since the summer of 2018, Alicia has hosted NAF interns, allowing them to apply their acquired skills and knowledge during Frontiers of Flight Museums STEM Summer Camps while learning leadership skills.
Alicia is always willing to provide resources to the academies and ensure their stability & sustainability."
– Mansoureh Tehrani 
NAF Corporate Engagement Consultant