On February 6, 2020, the 20th Annual Ethics Symposium in partnership with the June Shelton School and Evaluation Center and The Naveen Jindal School of Management took place at the University of Texas at Dallas. The symponsium provided an opportunity for several education and technology leaders to lead ethical discussions.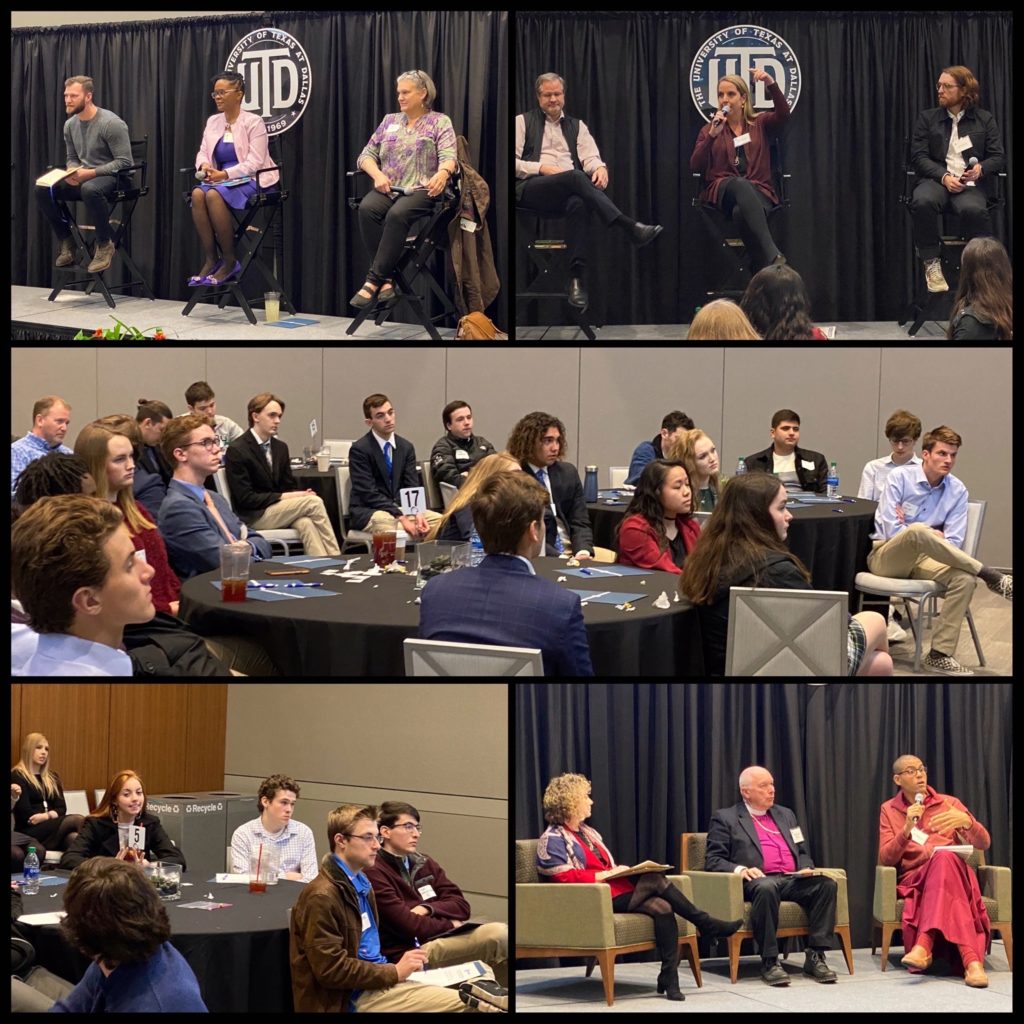 Sophomores and Juniors participated in a day-long event that focuses on the crucial topic of leading ethical discussions. More than 150 students were in attendance from Bishop Lynch, Parish Episcopal, Shelton, and Ursuline. Every student and leader received a copy of the book "How Good People Make Tough Choices, Resolving the Dilemmas of Ethical Living" by Rushworth M. Kidder.
I was a part of the panel discussion about "Ethics and Education" with education leaders John Oberly of Leadership ISD and Susan Sutton of Shelton School. It was a day of leading ethical discussions about "hot topics" on how to become better advocates for equity in education while working through ethical dilemmas.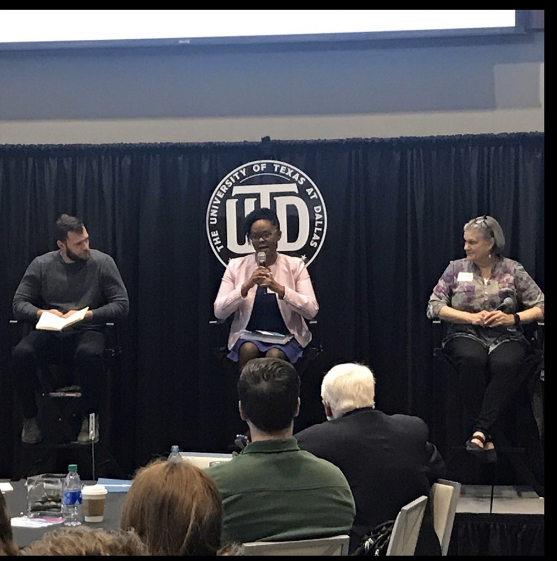 A Pew Research Survey highlights why public confidence in making ethical decisions is critical. It states, "Generally, the public has the most confidence in the way K-12 public school principals, military leaders, and police officers operate when it comes to caring about people, providing fair and accurate information to the public and handling resources responsibly. Some 84% think principals care about the students they serve "some of the time" or "all or most of the time," 79% think police officers care about them at that level of frequency, and 73% have the same level of confidence in military leaders."
The research survey is insightful yet public confidence is subject to change based on daily choices leaders are making. A further examination of making tough choices reveals there is a difference between ethical dilemmas and moral temptations and how it impacts citizens.
"It helps us separate right-versus-wrong from right-versus-right. The more we work with true ethical dilemmas, the more we realize that they fall rather naturally into these paradigms. So, any situation that fits one or more of the paradigms must, in fact, be an issue of right versus right. But what about those situations that strike us ethical conundrums but resist every effort to fit themselves into the paradigms? Usually, there's a simple reason they don't fit. They turn out to be right-versus wrong issues. Any attempt to make them square with one of these four patterns typically mires itself in frustration. While one side immediately appears right, the other side doesn't. Why Because there's nothing right about it: It's wrong. In this way, the litmus of the paradigms helps us spot the difference between ethical dilemmas and moral temptations."  How Good People Make Tough Choices, Resolving the Dilemmas of Ethical Living, Rushworth M Kidder
The key takeaways for education leaders in leading ethical discussions are:
Perception is Not Always Reality in Schools
The quality of education of private versus public schools is always a subject open for debate. There are many programs designed to support equity in access to underserved schools.  However, it does not always mean that public school students do not receive a quality education in every school.  The call to action is to use the power of advocacy to promote ethics and education as an integral part of being a champion of equity for all students.
Program Assessments and Integrity 
Funding for informal education providers must align with grant proposal requirements. For example, there needs to be a code of ethics to ensure the pre and post-assessments of the impact of the program's effectiveness are factual. Currently, large numbers of outputs may not be reliable indicators of success, if it doesn't align with measurable outcomes. Survey data should not be compromised to fit assumptions that you are not capturing.
Data and Third-Party Evaluation
Now that you are making sure that the students are increasing in knowledge and skills awareness based on the services of your organization, it is time to track data through a third-party evaluation source. It will strengthen your data integrity and collection through impact statements. You can determine long and short term results to be measured. If the third-party evaluator can certify your organization for ethical compliance, it will also show that you are both effective and trustworthy in your data collection.
Don't Fake it Until You Make It
Education leaders must not only quantify success but consistently show up competent in leading ethical discussions. The phrase "fake it until you make it" can be potentially dangerous in terms of building one's credibility. It is important to be careful if you decide to try this approach. Ethics and education often require compliance to state and national standards faking it can cause an organization to lose its funding sources.
Leading Ethical Discussions in Decision Making
Decision Making goes beyond thinking in terms of right versus wrong. There is also the scenario of when both decisions you can make are right, yet you can only choose one.
The symposium provide a series of real world examples to highlight the complexity of making tough choices.
The slides below are excerpts from the symposium to help guide you through leading ethical discussions: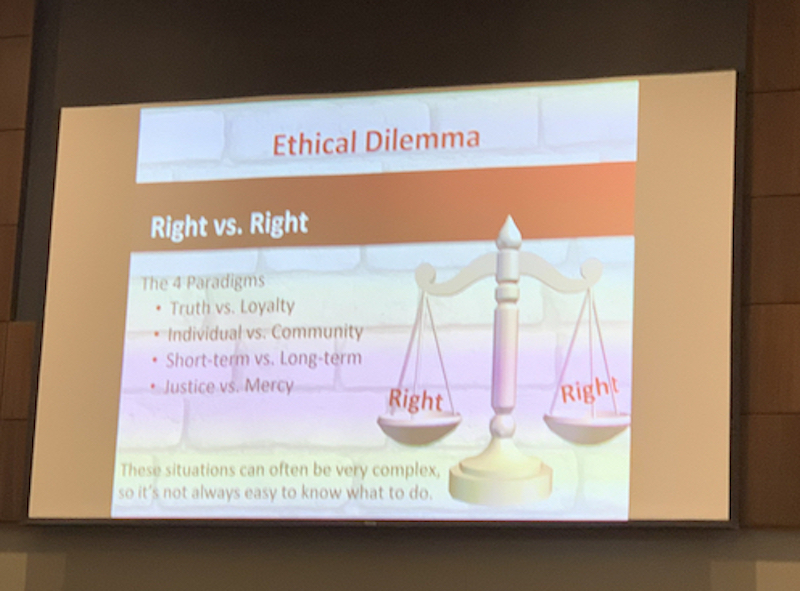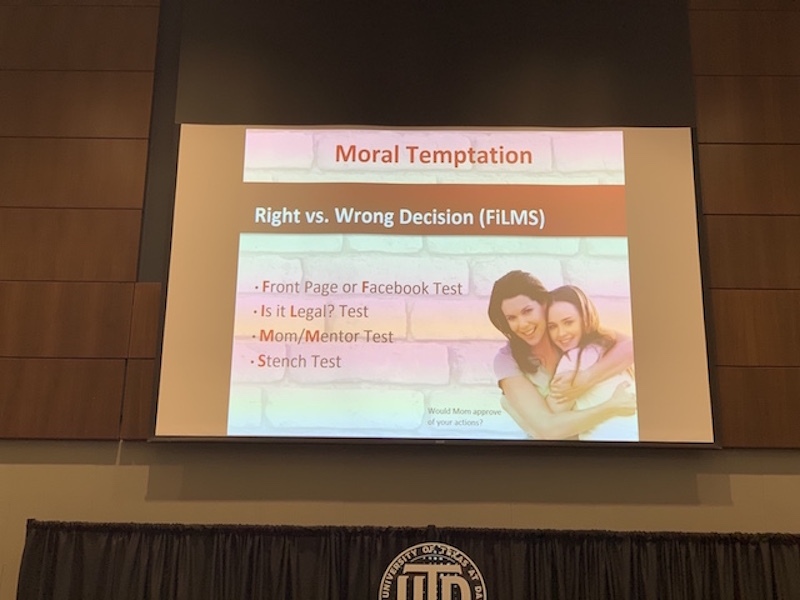 Ethics and education will always be at the forefront of leading ethical discussions about preparing students for a global workforce. Education leaders must make tough choices daily that present the challenge of evaluating a situation beyond personal biases to lead to more long term and inclusive solutions.
Featured image credit
Helloquence