#WE23 excitement, my journey with the Society of Women Engineers (SWE) is taking an exhilarating turn. I can't wait to present at #WE23!
My #WE23 Inspirational Insights Session,"Strategic Leadership: Empowering Teams to Win," is scheduled for Saturday, October 28th, from 12:30 to 1:30 p.m.

"#WE23 Inspirational Insights sessions are designed to engage and inspire attendees on a range of relevant and thought-provoking topics. SWE selects speakers who are thought leaders in their respective fields according to identified content needs. Inspirational Insight sessions offer free CEU/PDH for attendees who view the entire session and complete the post-session survey."
Member Journey
I am a proud member of the SWE community, joining the award-winning Professionals Chapter in 2015 in Dallas. SWE chapters provide professional development sessions that allow you to soak up wisdom from industry experts and fellow SWE members. Those early days of learning are my blueprint for leadership success.
Presenter Journey
My first presentation at a Region C SWE conference was in 2016. My presentation, "Your Voice, Your Story, Your Power," reflects my belief in the strength of advocacy and the importance of understanding different perspectives in the business world. In fact this presentation is a turning point in my journey. It helps me to realize the power of my voice and the importance of speaking up for what I believe in.
Also, that year, I have the incredible honor of being the opening session speaker at The Design Your World STEM conference for girls in Dallas. It is a chance to inspire the next generation of female engineers and scientists, a role I cherish deeply. This experience shows me the importance of giving back to the SWE community and helps to pave the way for future generations of women in engineering.
SWE Magazine Feature 
Fast forward to 2017, when my journey reached new heights. I am in the SWE Magazine "Women Engineers You Should Know" section.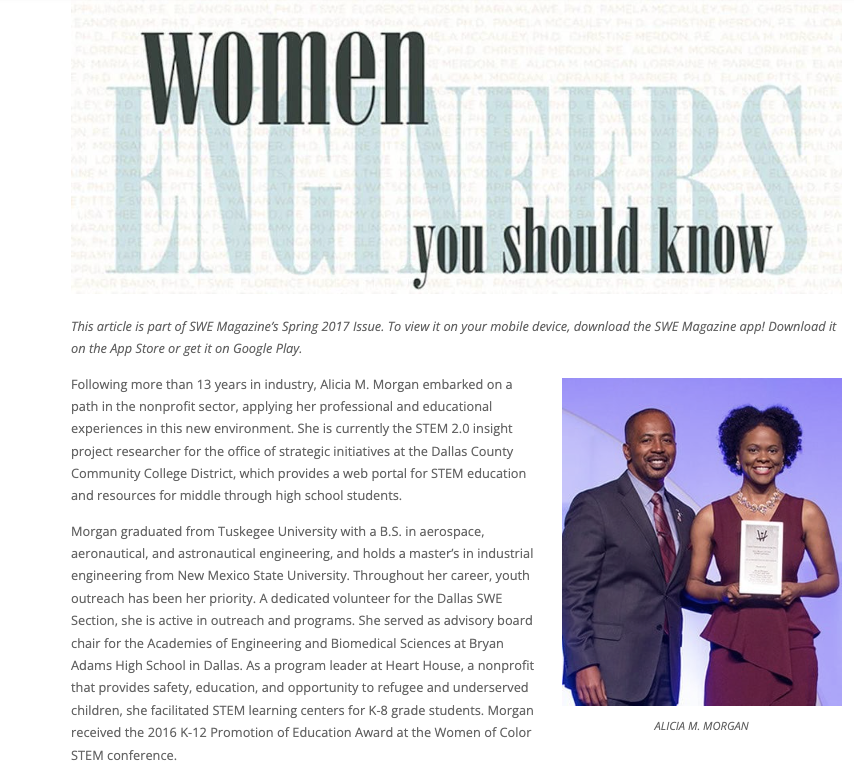 SWE Award 
2019 brought another highlight when I receive the K-12 Engaged Advocate award during WE Local Bellevue. The award is another testament of my commitment to diversity and inclusion in STEM education. It shows me that I am making a difference in the world and that my work is valued.
#WE23 Readiness 
This year's conference theme is #LiveWithoutLimits, and it is a perfect fit for my SWE journey. I believe that you should never let anything stand in the way of achieving your goals. You should live without limits and never give up on your dreams.
I hope to see you all at #WE23!
Learn more about other #WE23 Inspirational Insights Sessions
Register for #WE23