I am excited to receive the honor of being a LinkedIn Community Top Voice.  For this purpose these badges are for Relationship Building, Interpersonal, and Presentation Skills some of my greatest strengths.

"LinkedIn Community Top Voices are noteworthy contributors who show expertise in a specific skill or skills as determined by their contributions to collaborative articles. These members can be identified by the light gold Community Top Voice badge." Source LinkedIn
The LinkedIn Community Top Voice journey is all about interaction. I contribute to collaborative articles in stakeholder engagement, programs, and change management. I'm passionate about helping people build better relationships with their stakeholders.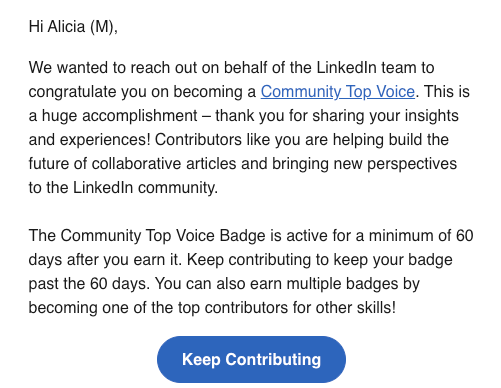 Furthermore, I believe that strong relationships are essential for success in any field.  When we have strong relationships with our stakeholders, we're better able to collaborate and achieve our goals. Indeed this builds a more connected and collaborative world.
In addition, some interpersonal things you can do on LinkedIn to become a Community  Top Voice:
In the first place, be genuine and authentic. Share your stories, your challenges, and your successes. However, people can spot a fake from a mile away, so be yourself and let your personality shine through.
Secondly, be helpful and supportive. Offer advice, share resources, and lend a helping hand whenever you can. It is a great way to build goodwill and establish yourself as a trusted expert.
Most importantly be consistent. Post regularly, engage with others, and participate in discussions. The more visible you are, the more people will get to know you and your work.
In a similar fashion be patient. It takes time to build stronger relationships and develop expertise. Yet don't let it discourage you if you don't see results overnight. Remember, effort leads to rewards over time to become a LinkedIn Community Top Voice.
Here are some LinkedIn Community Top Voice tips for strengthening relationships and improving presentation skills:
Connect with people who share your interests. You can do this by joining groups, taking LinkedIn Learning courses, or sending connection requests to professionals whose work you admire.
Comment on other people's posts and articles. It is a great way to start conversations and get to know people better through top community voices.
Share your own content. For example, blog posts, articles, videos, or even just your thoughts on current events. Reach out to people directly for advice or help. Even more this is a great way to build rapport and learn from others.
Attend virtual events and webinars. Overall, it will be a great way to network with other professionals and learn new skills.
I hope these tips help you become a LinkedIn Community Top Voice in your niches.